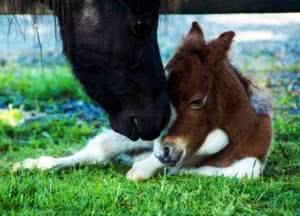 After your mare has made it through 11 months of pregnancy, it is time to focus on the impending labour and delivery.  As momentous as the delivery of a new born foal is, it is generally uncomplicated. However, every effort should be made to be present during foaling, be aware of signs of trouble, and be prepared to lend a hand if needed. Being an observer can save the lives of the foal and mare, if a problem should arise.
We ask that you notify us when your mare starts exhibiting signs of impeding labour, which will occur in the last few days before delivery. It is advisable to have our telephone number nearby in case of a foaling emergency.
If you have an emergency, please call (250) 588-9438. If you reach the voicemail, state clearly that you have an emergency, and a veterinarian will call you back within 15 minutes.  Do not email or text.  Emails and texts are not checked after regular business hours.
See our pamphlet for further directions.