January Case of the Month: A Donkey Feature!
This case of the month is more a "featured patients of the month" than a specific case. We wanted to highlight two of Dr. McDonald's regular spinal manipulation patients: miniature donkeys Libella and Timmy. Libella has been getting adjusted regularly since February of 2020, and she was feeling so great she convinced her herdmate Timmy that it was worth giving an adjustment a try in October.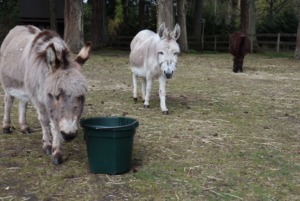 Dr. McDonald first started adjusting Libella when she was struggling with some issues with her front feet and was having body pain secondary to those problems. Libella initially had a variety of chiropractic restrictions which were affecting her ability to use her body freely, likely accumulated from her abnormal movement patterns associated with her troublesome feet. Through regular adjustments and remedial hoof care, Libella has regained a more balanced movement and is much more comfortable in her daily routine. While Timmy has not had the same soundness concerns that Libella has, he spent several months watching her enjoy her adjustments, and his owner felt it would be worth evaluating Timmy to see if he had any concerning restrictions. Timmy had some restrictions, as we all do, collected from our day-to-day activities and asymmetries in our movement patterns, and although he was a little unsure about a few of the adjustments, he relaxed during the appointment, which is very common for anyone's first time having spinal manipulation therapy performed. Timmy's owner noted that Timmy seemed more lively and even a bit bossy with his herdmates following his adjustment, and she decided to keep Timmy on a regular schedule with Libella. Adjusting these sweet little guys is always an appointment that Dr. McDonald really looks forward to, they're very fun to work with, and prevention by maintaining proper biomechanics is always better than trying to correct a problem once it has occurred.
If you have any questions about Veterinary Spinal Manipulation Therapy, please contact Dr. McDonald through the Swiftsure office and she will be happy to chat.